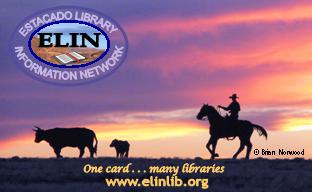 Estacado Library Information Network
The ELIN consortium is made up of six libraries -- Hobbs Public Library, Lovington Public Library, Pannell Library (NMJC), Scarborough Memorial Library (USW), Woolworth Community Library (Jal) -- which have been working together since 1997 to improve information sevices in southeastern New Mexico. Eunice Public Library joined the consortium in 2007.

ELIN offers the libraries and citizens of southeastern New Mexico a variety of benefits:
Pooling financial resources to access online databases, enabling more digital resources to be available than could be purchased individually by each library.
The same library system for all participating libraries, facilitating ease of use and providing twenty-four hour systems access from remote home computers and other libraries.
Full Internet and information access for all Lea County residents.